One week ago, a few friends and I spent a weekend at a lovely cabin in Barbours, PA. Before leaving for our final hike, I decided it was a good idea to throw a snowball over the cliff into the Loyalsock Creek below. As it would turn out, I also threw one of my wolf rings as my fingers shrank from the cold. Needless to say, there was a fair amount of internal fire and sorrow, given the ring's significance. After a bit of grieving and acceptance, I let go of it and moved on.
…or not. Those who know me know that I don't give up on that which matters to me. I immediately started planning for the trip, using local information on the creek, USGS trends of the Barbours area, weather events, Google Maps and terrain, etc. I had been toying with getting a metal detector for quite some time, but could never truly justify the price. Well, what better time than now?
I ordered the Garrett AT Pro based on reviews and price, which raved at how well it performed for beginners to intermediates at a lower price. I'm always skeptical of "user reviews" on websites as they have a tendency to be fake, but they were spot on. I tested with one of my silver pieces by putting it in the ground. The detector nailed it, even with a few pieces of steel hanging around.
Next was the creek. When we drove to the other side last weekend, it seemed like the creek was shallow enough to cross with waders. For the entire week, the gauge read between one and two feet in the creek shortly downstream. I decided to buy two pairs of wading boots: one for mud and one for rocks. It was interesting to learn that felt soles have the best grip on slippery rocks!
Lastly, we needed to secure a place to stay. As always, we crawled AirBNB for the best deal and found a place ten minutes west of Forksville. While it was a good twenty-five minutes away from our target, we also couldn't beat $45/night with two beds. One thing we needed to keep in mind is should one of us fall in the creek, warmth is potentially a half an hour away, so the extra clothes, blankets and emergency gear filled our vehicles. The creek was literally freezing, so this was no casual adventure.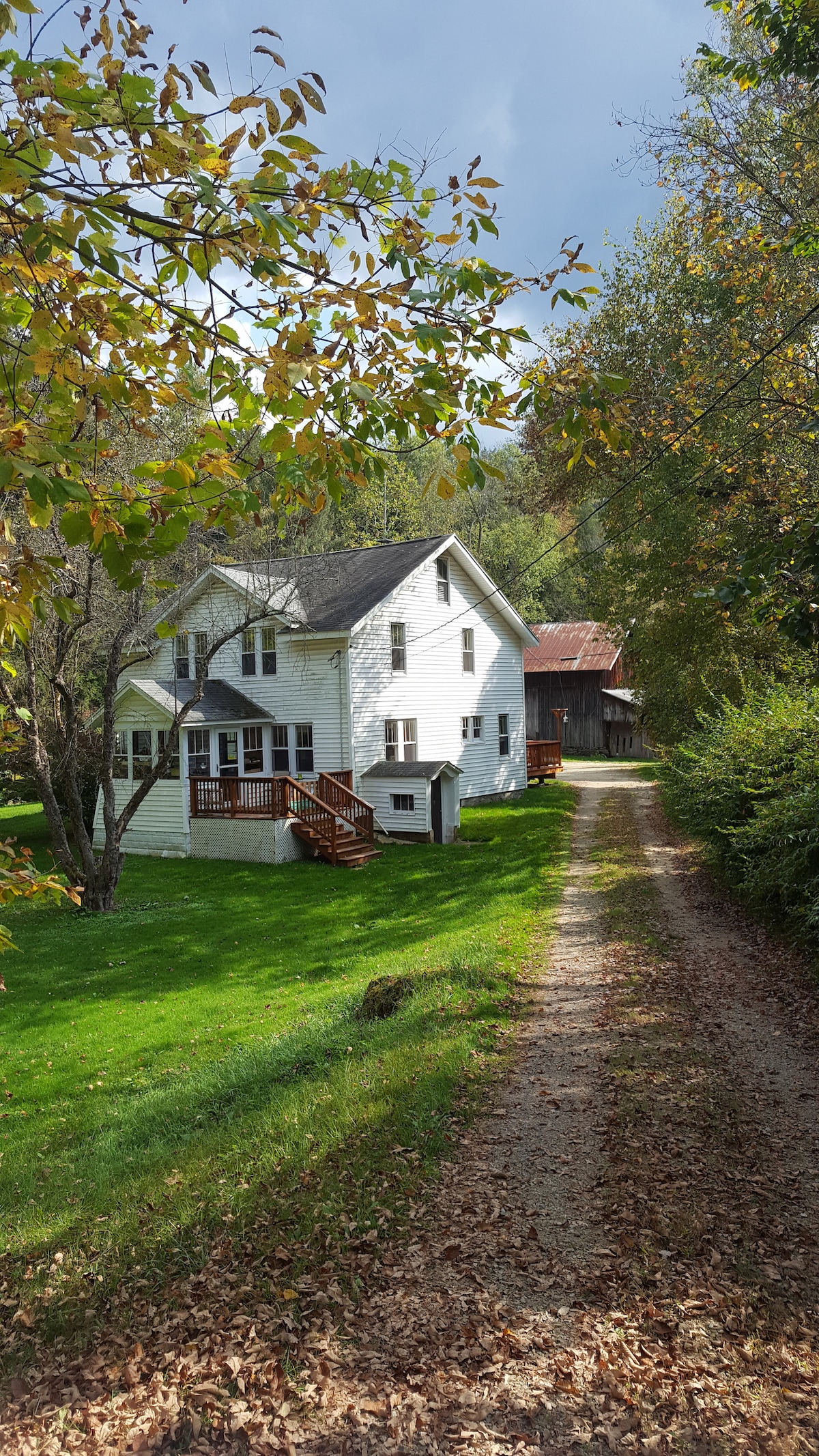 The rendezvous point was the only gas station for miles, appropriately named Between the Bridges. As I approached from state route 87 north, my partner in crime came through on the radio to give me some bad news. This grocery store/deli/hardware store/gas station – oh yeah, that's a general store – unfortunately closed a few minutes before we arrived, leaving us without dinner. Luckily, he had some emergency rations that we could cook up when we find our beds.
As it turned out, we didn't need them. Our host, Martha, is one of the friendliest people I've ever met. She heated up some soup and sandwiches for the two cold dummies that arrived at her doorstep and the three of us spent the rest of the night sharing life stories and hanging out with her three dogs and ninja cat.
We packed the gear in our vehicles, stopped at the store to pick up breakfast and lunch, then headed south back to the cabin at Barbours. Driving the valley early in the morning provides amazing views with the light fog over the creek and we had to resist the urge to take photos along the way. We were, after all, on a rescue mission. The road next to the creek was nice and clear for us.
Unfortunately, we quickly realized that the creek wasn't so much shallow as it was clean. The optical illusion went from a foot to three feet real quick. The two of us attempted to cross from multiple spots, but even at the shallowest point we could see that the other side was much deeper. An elderly man stopped along the road with a curious intent and reaffirmed that there was no way we were making it across on foot. At this point, I started to feel doubt that we would locate the ring, but at least we removed some trash from the creek on our way out.
Our last shot was approaching from the other side…the steep and icy side. Given the ice, we had to park the car down the road and hop in the Jeep to finish the drive. A good chunk of time was spent pacing up and down the snowy road while plotting our approach, but we knew the only way down was ropes and hopes. Using what I believe to be a great fir tree as an anchor, the descent began. Trying to use a metal detector on the way down was certainly easier than coming up, but still proved to be a test in multitasking.
The owner of the property had a friend take a look earlier in the week, but it has snowed twice since last weekend, making a causal glance useless. They were convinced that the ring didn't make it to the creek, but I was pretty sure it landed about a foot after the "shore" line. We did find some sort of a makeshift bench or perch at the bottom, which was made of a number of thick branches spread across a downed tree, but it was unknown if that was related to the earlier search.
By the time he made it to the bottom, there was still no sign of the ring, nor was the metal detector screaming. I had finally given up, but he insisted on going off-rope and checking the water. Sure enough, the detector gave a loud beep where I originally thought it landed and out it came! Good boots and ice spikes made the climb up fairly easy, so we packed up, hit the Jeep and drove back to the car.
Now that our mission was accomplished, we decided to eat lunch at Worlds End State Park. Cold drinks and cold sandwiches seemed like a good idea until we sat down at a picnic bench. The wind and lack of sun reminded us of how absent-minded we can be, but we persevered and…who am I kidding? We ate half of our sandwiches and ran back to the Jeep to warm up.
It was still light out, so we decided to take a little trip further north on state route 154 past the AirBNB. There were plenty of excellent photo opportunities along the ride – which can be seen in the gallery after the article – including a mechanic garage frozen in time and the town of Canton, PA. Interestingly enough, I noticed an insane number of Cherokees, Grand Cherokees and Liberties in the area, but not many Wranglers.
Canton was an interesting little town, but it was drowned out by the large number of water trucks parading through due to fracking in the area. We tried getting into the thrift shop, but they had just closed. After taking a few shots and assisting someone with moving one of the most awkward pieces of furniture I had ever seen, we decided to head back and relax for the night.
Due to time constraints today, we had a nice early start at six something and hit the road around 7:30. The ride back over the mountain was a bit icy, but far more foggy as the drive continued. I decided to snap some additional shots as most of the time I make this drive after the sun goes down. Eventually I had to give up as the fog became too thick.
Until next time, Jolene out!