It's February in northern Pennsylvania, which means there are lots of ice falls, snow caps and peaceful silence. What better way to spend it than at a small cabin near the end of the world?
Worlds End State Park, also known as the Pennsylvania Grand Canyon, is one of my favorite getaway spots in the central Pennsylvania region. Located near Forksville, PA, Worlds End is a 780 acre park that is surrounded by the Loyalsock State Forest, providing trails, picnic areas, historic landmark sites and some serious vista views.
We spent the weekend at a lovely historic cabin south of Hillsgrove along the Loyalsock Creek which came with an amazing story. The owners rescued the remains of the antique cabin from a site in Maryland and rebuilt it. While they kept as much as they could original to the cabin, it also provided modern amenities and utilities, leading to a comforting and peaceful stay in the woods.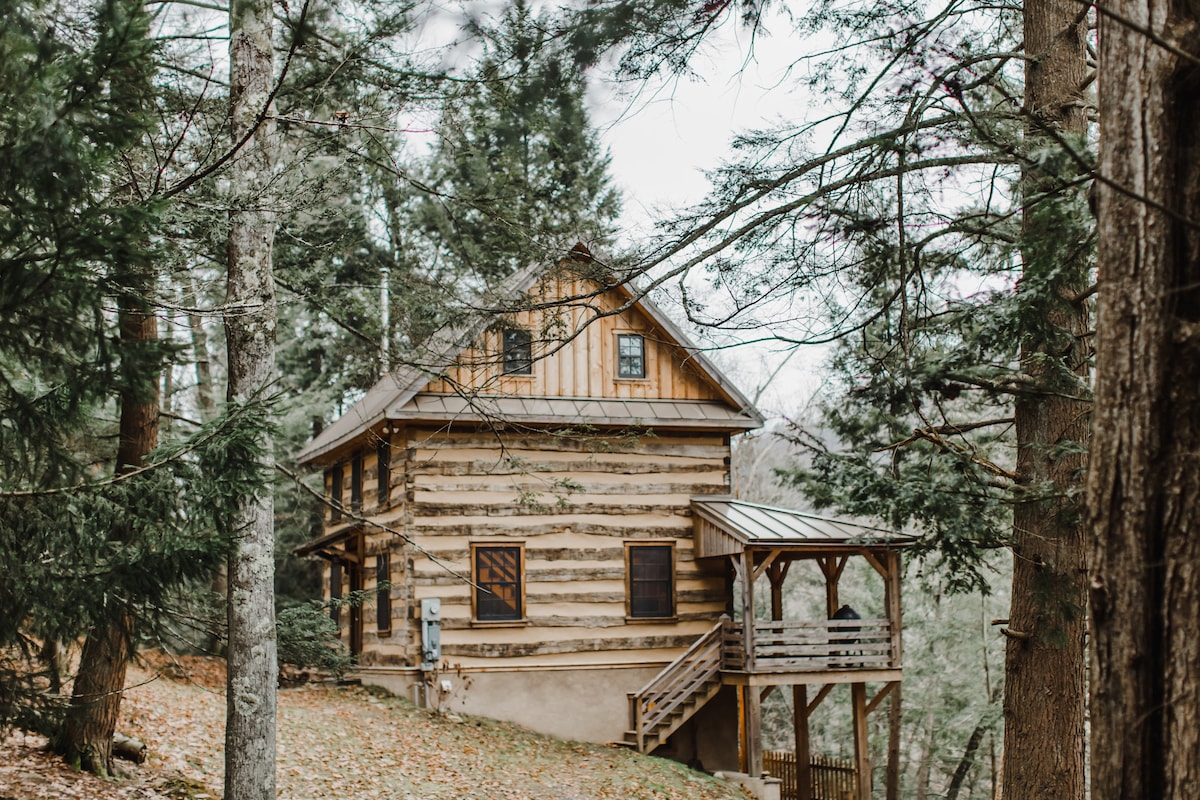 Of the many things to know prior to arriving in this region, the most important is the fact that there is little to no cell service and even less chance of getting a data connection. Come prepared with paper maps, sufficient fuel and other people. Towns can be many miles apart in some regions. If you're fortunate enough to afford a satellite phone, then bring it with you.
After a night of social deception games and laughs by the fire, it was time to pack lunch and head to the park. The drive up state route 154 is breathtaking in general, but the winter ice mixed with the cliffs lead to beautiful ice formations.
Even though the beach house was closed for the season, the visitor's center and ranger station were open providing rest services for those who may need it. Despite this winter being quite mild, we severely underestimated the amount of ice and snow on the trails and had to rethink our strategy. Naturally, the first place we hit was the ice covered playground because, you know, slides. Once we were done reliving simpler times, we gave the Worlds End trail a shot, only to quickly find a sheet of ice instead.
Snow hiking can be one of the most peaceful adventures that one can take, but eventually we made the call to turn around as it was too much of a risk. Logically, the best way to make your way back down is slowly while using any trees or rocks to give you traction. However, some of us decided to use a more…expedient method…
Once our rears were frozen, we decided to head up to the Loyalsock Canyon Vista. The road to the top was fairly treacherous, but doable between the Ragnarok and the Subaru. An important note when driving the Worlds End roads, regardless of season, is that the roads are narrow and there are few areas to pass. Doing this in ice was even worse, but we lucked out on the final stretch with melted tire tracks. Even though it took a good 25 minutes to travel 3.2 miles, the view was absolutely worth it.
A small hike up from the vista is the Rock Garden, which I had never previously explored. A large collection of rock splits, boulders and caves gave us an opportunity to do some rock climbing and spelunking. Some of the boulder walls were covered in ice and one of the caves had a nice big pit in it, but it was otherwise a fairly safe area to explore
As the sun started to set, we decided to make a run for High Knob in an attempt to catch the view. A quick drive down to Eagles Mere reminded me that the small mountain community closes down at 3 P.M. on Saturdays, but we were still able to grab some hot chocolate at the Eagles Mere Inn. Unfortunately, we found that the road to High Knob was so deeply buried in ice that it wasn't worth the risky 4.6 mile drive. With much disappointment, we drove back to the cabin, but all was forgotten when we chowed down on some delicious chili and chicken, played some great games and enjoyed each others' company by the fire.
In summary, Worlds End is a great place to relax and explore. In all of my trips to Loyalsock, I have yet to be disappointed. Big thanks to the crew for the invite and hopefully we'll be back soon!